There's just something wonderful about a runny egg and crispy bacon on a burger.  I had my first of many bacon and egg burgers at a Rock Bottom Brewery in Portland.  It was called the "2 am burger" and it also included fried hash browns.  If you'd like to include that, consider using rutabaga for the hash browns OR just pair this with these Air Fryer Parmesan Rutabaga Fries.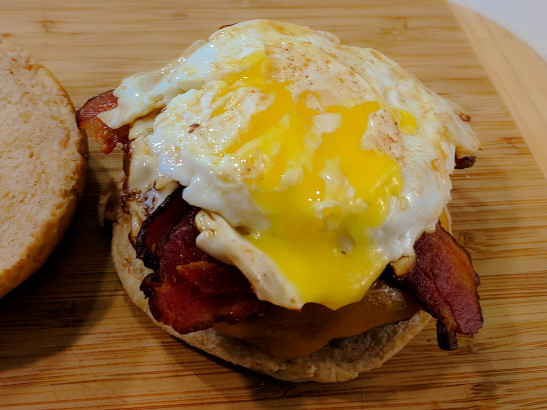 Ingredients
1

lb

ground beef

90% lean or leaner

4

egg

8

slices

uncured bacon

4

slices

cheddar cheese

or pepper jack, note: real cheese only

4

each

100% whole grain hamburger buns

no HFCS
Instructions
Divide beef into 4 equal portions. Roll each portion into a ball, then flatten with palms of hands. Grill or pan fry over med-low heat 3 min on each side or until patties have reached desired doneness.

On a griddle or flat frying pan, cook the bacon until it is crispy (or however you like it).

On the same griddle or frying pan, crack the eggs and let them cook until the whites are mostly firm and yolk has not hardened. Flip the eggs and let them cook just a few seconds more. If the griddle or pan is large enough, you can cook the eggs, bacon, and burgers at the same time.

Place each burger patty on the bottom half of bun. Top with bacon and then over easy egg. Top with top half of bun and serve. These go great with some hot sauce such as Cholula or Tapatio.