So, let's just get this out of the way first before diving into some healthy Cinco de Mayo party recipes: I'm not Mexican and I know very little about the history of Cinco de Mayo. My understanding is that it really isn't even a holiday celebrated in Mexico. It's more of an American holiday where we eat Mexican food. I realize that isn't much of a history lesson (it may not even be accurate), but that is my understanding.
With that said, a holiday where we celebrate amazing Mexican food (or even Mexican-inspired food) sounds AMAZING to me. I see no reason not to partake. Do you? Ok, good!
I'll stop talking now and just get to the good stuff then! We put together a list of 8 healthy Cinco de Mayo party recipes on this blog. These are all great for having people over and letting them fill up a plate of appetizer-esque items to make a full meal (or not).
8 Healthy Cinco de Mayo Party Recipes
At the bottom of this article, you'll also find a link to a shopping list organized by recipe. You can print it or save the link and use it to shop for any or all of the recipes with ease. You can also go to any recipe and print the full recipe from there.
#1 - Jalapeno Margaritas
Straight for the good stuff! Ha! There are actually three versions of these margaritas on our site. We have these jalapeno margaritas shown below, and we also have a watermelon version and a strawberry version.
These are yellow tier in 90/10 due to the tequila and agave, but still a much healthier way than the simple syrup versions that you'll often get with margarita mix (there is also a healthier margarita mix brand linked in the recipes).
#2 - Baked Tortilla Chips
You MUST have chips (with salsa and quac…see below), but almost all tortilla chips from the store are fried in vegetable oils like safflower and canola…not cool. These baked chips are just as good (my opinion) and not difficult to make. Just 8 min in the oven.
#3 - Fresh Pico de Gallo
Pico is so simple. It's just a few fresh ingredients but the flavor is incredible and it's such beautiful food as well. The chopping is worth it.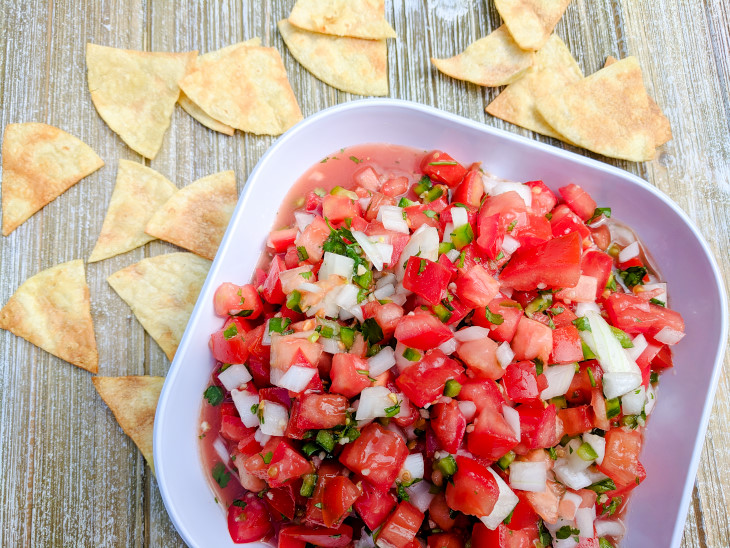 #4 - Fresh Guacamole
Unfortunately, not all guacamole is created equal. If you see guacamole at the store and it has mayo or sour cream in it, please run. That's not the good stuff! This is the good stuff. Fresh ingredients and a little pickled jalapeno juice as the secret ingredient.
#5 - Steak Fajita Rollups with Queso
#6 - Steak Street Tacos
Street tacos are so fun for a party. Little tiny taco shells so you can load them all different ways! You'll likely already have the pico and the guac for toppings anyway.
#7 - Walking Tacos
This is a fun and practical idea for a party. You can let people build their own walking tacos in disposable (or reusable) cups.
#8 - Enchilada Rice
Enchilada rice is great for a party like this because each person can just grab a scoop for their party plate full of other dishes. It also makes a great main dish but it fits this style as well.
I've organized the shopping list by recipe so you can choose to buy it all or make just a few of the recipes. Download the pdf below.
Have fun with these healthy Cinco de Mayo recipes!