I'll be honest up front here: I'm not a huge fan of the keto diet as a long term solution for everyone. If you search through our recipe database, you'll find many recipes that are not keto friendly. We're simply not a keto website and we don't intend to be. So, when we were considering putting out a free keto meal plan, I knew I needed to make sure that I explained our position on the keto diet.
I actually wrote about this a bit before when I blogged about my own experience with the keto diet. You can read that HERE and it comes with the option to get our keto guide.
Here's the summary: I DO think the keto diet is a great way to get blood sugar handling issues under control. Often times, overconsumption of refined grains and sugars results in hypoglycemic and/or insulin resistance symptoms. A relatively short term keto diet can help resolve those issues and also shed some weight. It's also very useful for shedding weight before a physique competition (again, short term), although that's a special case to be sure. I think a more balanced approach to carbohydrates, focusing on the most nutritious types of carbs, is a more sustainable long term approach, but the keto diet works wonders to bring the body back to a place where it can focus on a more sustainable approach.
With that said, here's a free keto meal plan with 7 amazing keto-friendly recipes for those who want to give keto a try for a short time or for the hard core keto lover.
7 Days of Keto Meals
At the bottom of this article, you'll find an electronic meal plan with each of the recipes described here. The electronic meal plan can be printed or modified and it has a shopping list generator. You can simply press "generate shopping list" and the system will pull all of the ingredients from the recipes on the plan and list them all below the meal plan. You'll then have the ability to delete things that you already have, modify quantities, add additional items and more.
This is the same recipe collections feature that our Clean Plate Club members have access to in their personal account so they can add any recipe to their personal meal plan and generate a shopping list.
Day 1 - Taco Quiche
It's got the flavors of beef tacos, the fluffy eggs of a quiche, and a low-carb buttery crust. Top with salsa and avocado and you have a magnificent keto-friendly meal.
Note: This meal is set up to make 2 quiches because the ingredients work out perfectly that way. Depending on the size of your family, you have two options: You can either click on the recipe in the meal plan below and adjust the servings down, or you can make both and freeze the second one. Oh, and I guess option 3 would be to invite some people over!
Day 2 - Slow Cooker Pepper Steak with Cilantro Cauliflower Rice
Slow Cooker Pepper Steak is normally served with regular brown rice on this recipe, but it's easy to make it keto friendly by pairing it with some cauliflower rice. Just make sure to delete the brown rice from the ingredient list (it's listed as optional anyway).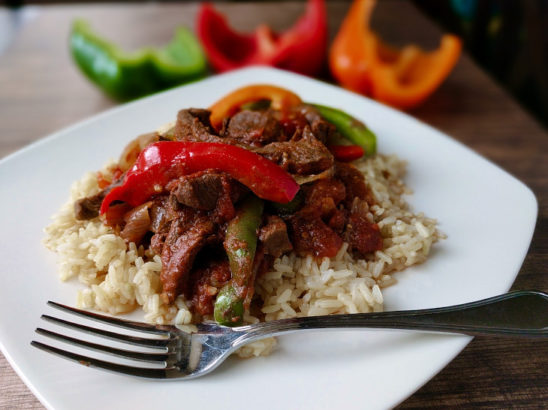 Day 3 - Steak Fajita Rollups with Queso
This one is a fantastic recipe to take to a party as an appetizer but it can certainly act like a meal as well. If it's not quite enough food for you, a steamed veggie or a salad would go well with this.
Day 4 - Keto Burgers with Pepper Jack Cauliflower
This is a wonderful pairing of two keto-friendly dishes. The keto burger buns are absolutely the best low carb buns around. They're fluffy and they hold together well, but they pass the keto test with flying colors. The pepper jack cauliflower is done in the slow cooker and goes great with a burger.
NOTE: On the meal plan, the only recipes are the bun recipe and the cauliflower recipe. I've also added some ground beef to the plan so it shows up on the shopping list, but there's no "recipe" for the burger patty. You can make the burger patties any way you would like (and don't forget your toppings such as cheese and veggies).
Day 5 - Tipsy Turkey Tacos with Cheese Shells
Turkey Tacos with shells made completely out of cheddar cheese! Yum. You'll notice a little pineapple juice and some tequila in this one. It's hardly enough to ruin your ketosis, but you could substitute if you wish.
Day 6 - Tomato-Shrimp Stew
The coconut milk and tomato base in this stew gives it such a wonderful flavor and goes along with the keto plan nicely.
Day 7 - Zucchini Chicken Enchiladas
A simple tool called a "swiss peeler" makes quick work of these zucchini enchiladas. No precision slicing needed.
Click on any recipe and a preview will pop up below the meal plan where you can click to see the full recipes and also adjust servings (changes shopping list output).
Use the Print Recipes button or Print Collection button to print all of the recipes or the calendar view of the plan.
Click on "shopping list" and choose options to generate a shopping list of any and all days on the plan.
You can modify the shopping list after you have generated it by deleting things you may already have, adding additional things (such as burger toppings), and modifying quantities. Click save to save the list with all your modifications.
Right click and use the link at the bottom of the shopping list to email it to yourself or another person.
Use the print button to print the shopping list.