A cup of soup is a bowl of comfort. Warm (usually), hearty, and satisfying, very few things comfort like homemade soups (and soup mixes), especially in Winter. This is probably due to the fact that "only the pure of heart can make a good soup" (Beethoven). Each ingredient in a soup builds up the others, in turn, until it becomes a structure that can withstand even the harshest of storms.
Making homemade soup, then, is not difficult nor cumbersome, but a true labor of love. And feeding said soup to loved ones only enhances its flavor and its robustness. The act of giving seems to strengthen its power, delivering love straight to the hearts of its recipients with every spoonful.
What we have for you today is our gift to you. It is our labor of love. We have compiled a catalog of 6 soup mixes plus homemade bouillon that can be stored for months at a time in a jar in your pantry. All you need is a few freeze-dried veggies and some pantry staples, a few jars, and a list of people you love who love soups.
We made all our soup mixes in pint ball jars (16 oz.), so if you want to double the recipes, be sure to use quart jars (32 oz). (Note: Quart-sized zip-top bags and well-sealing plastic ware would also work.)
We have also included a printable gift-tag pdf file, so you can provide a label with cooking instructions along with your gift. (Please know that it's perfectly acceptable to give these soups to yourself and we won't tell anyone!)
The Broccoli-Cheddar Soup is special in that it can be cooked without a stovetop, slow cooker, or instant pot. All you need is boiling water, so this can be made at any workplace that has a microwave!
Most of these healthy soups can also be made in an Instant Pot, and Instant Pot-specific gift tags are included in the pdf, so feel free to give these to your fellow "pot-heads"!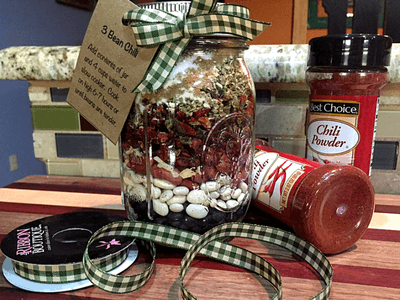 Use the tabs below to see the recipes for all the soup mixes.