NOTE: This post was updated on 2/20/19 with new pictures and recipes.
I noticed this week that we actually have quite a few different kinds of healthy grilled cheese recipes in our database.  I think I have actually tried them all!  I LOVE grilled cheese.  It's just one of those super dishes that has all the right qualities:
✅ Simple
✅ Versatile
✅ Quick
✅ Cheap
You can't ask for much more from a food!
I put together 7 of our healthy grilled cheese recipes on this blog so you can find them all in one place.  I hope you enjoy them!  Comment below with which ones you are going to try!
Healthy Grilled Cheese Recipes
CLASSIC GRILLED CHEESE
No post about healthy grilled cheese recipes would be complete without the classic, right? This one is traditionally paired with tomato soup (as pictured). Conveniently, you'll find the link to a wonderful and simple tomato soup recipe right along with this one.
PIZZA GRILLED CHEESE
This has to be one of the most popular recipes in our entire database of nearly 1000 recipes. Moms and Dads rave about it because the kids just love this simple take on pizza (no crust making necessary), but I think they're just using the kids as an excuse.
JALAPENO POPPER GRILLED CHEESE
While pizza grilled cheese seems to be our most popular of the healthy grilled cheese recipes, this one is my personal favorite. I'm a big fan of spicy food and this combination is both beautiful and flavorful. It's a bit more work than a standard grilled cheese but it's worth every minute.
AVOCADO GRILLED CHEESE
The only thing better than jalapeño is avocado (personal opinion), and the only thing better than that is avocado and jalapeño (guacamole, anyone?). Oh, that gives me an idea! I should add jalapeño to this avocado grilled cheese. You may not need to though, because this is definitely one of the best healthy grilled cheese recipes I've had.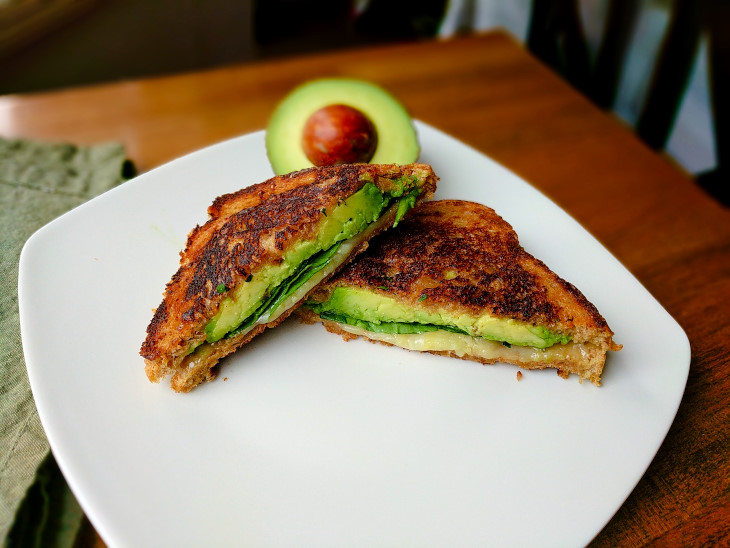 FREEZER-READY GRILLED CHEESE
Hmm…freezer-ready grilled cheese? Isn't grilled cheese already easy enough to just make it fresh? Well, sure. I suppose it is, but we've heard from our members that this method allows their older kids (teenagers mostly) to be able to just grab one out of the freezer and cook it up quickly and that's worth something.
PESTO GRILLED CHEESE
Basil, pine nuts, parmesan, and mozzarella are at the center of this Pesto Grilled Cheese. Pesto makes such a tasty and healthy grilled cheese sandwich and it feels so gourmet for a sandwich.
BLACKBERRY-BRIE GRILLED CHEESE
If you're looking for something really unique in the realm of healthy grilled cheese recipes, this is it. Blackberry fruit spread and brie cheese make up the middle of this fun option.