It's peach season, or it was.  There is something to love about anytime of year, but August's and September's way to my heart is peaches.  Buy direct from a farm and you'll know why I love them so.  Grocery store peaches are hit or miss, but at least in late summer they're usually cheap!  Some people prefer nectarines, which is basically a fuzz-free peach.  But I have never, ever, and I mean never had a nectarine that sung to my heart the way a fresh-from-the-farm peach does.  Healthy Caramelized Skillet Peaches is just one of the many ways we love to devour, er, I mean, eat our peaches each summer.  These can be a side dish for 1-2-3 Eat!, can be a healthy dessert (or even a healthy snack!) all on their own, or as a topping for our healthy Vanilla Bean Frozen Yogurt.  Try it as a topping for our Clean Eating Protein Pancakes for a healthy delicious breakfast.
Just listen to these peaches sizzle in the skillet….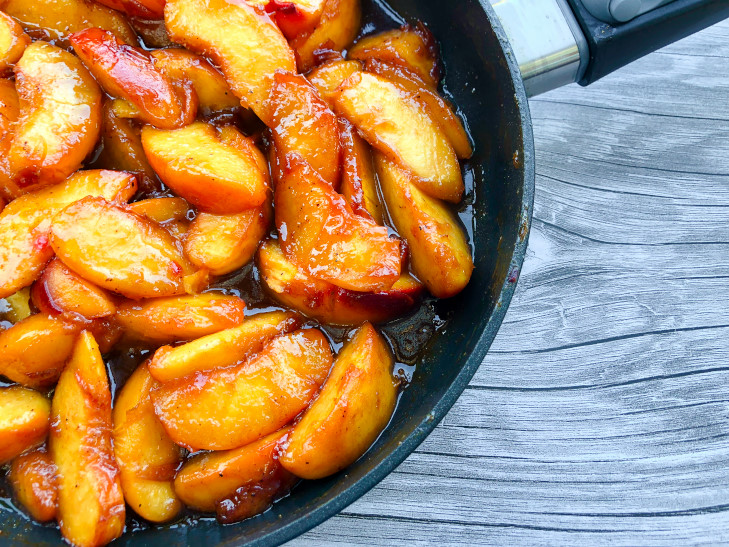 Ingredients
6

each

peach

the fresher the better

2

Tbsp

lemon juice

1/4

cup

pure maple syrup

1/2

tsp

kosher salt

4

Tbsp

unsalted butter

1

tsp

vanilla extract

pure
Instructions

Optional step: Plunge peaches in boiling water for 1 minute, remove and place into an ice water bath for 5 minutes. Peel peaches. (We did not peel peaches for testing purposes.)

Pit peaches and cut into wedges. Toss peaches, lemon juice, maple syrup, and salt in a bowl. 

Heat butter until melted. Add peach mixture. Let cook, stirring occasionally, until caramelized. About 10 minutes. Stir in vanilla.