Somehow, it got to be Easter week of 2018.  I'm not sure how because I'm pretty sure yesterday it was August of 2007 and I didn't have anyone coming over for a holiday dinner.  But here we are, thanks to some unpredicted fold in the space-time continuum, and it's Easter of 2018 and I do have company coming.  So, now I need healthy Easter recipes that don't alienate my company.
Company on its way is always a challenge for the clean eating genre, because in most cases, our company doesn't share our engrossment in the unprocessed world of clean eating, especially during the holidays (any holiday). "Clean eating is fine and all, but give me my junk on the holidays."  Or, "Don't impose your diet philosophies on me, at any time of year, but especially during the holidays."  And, my favorite, "you're going to have dessert, right?"
You have to host.  You have to host people with different eating philosophies.  And, you have to do so without completely sabotaging your own healthy eating commitment.  That's the bad news.  The good news is, we have you covered for healthy Easter recipes.  We at 90/10 nutrition have a healthy Easter dinner all planned out, and yes, we are going to have dessert!
We will use your grill, your instant pot, your oven, and any and every other appliance known to man to make this happen. (Just kidding!  You will be able to execute this dinner even in the most basically-equipped of kitchens, I promise.)  You're just going to have to spend A LOT.  (Kidding again!  This is a very economical, low-cost, healthy Easter dinner that will taste good to even those who prefer processed foods.)  I am telling you: we have you covered.
Healthy Easter Recipes
For the main event, the healthy entree, we have grilled whole chicken (which you can bake if you don't have a grill.)  Stick this baby on the grill and walk away.  The end-game (game?  get it?  ok.  maybe not for chicken.  Pheasant, maybe.)  is a tender, juicy chicken encased in a golden, crispy skin.  No basting, no baby-sitting.  Just set it and forget it.  (Oh.  Am I stealing someone else's tagline?  oops.  My bad.)
Main Course: Whole Grilled Chicken
On the side, we have the perfect pastel shade of lavender, with no food colors even, by smashing cooked purple potatoes with the amazing flavors of sour cream, gouda cheese, and green onions.  Add to that the beautiful orange of garlic-honey carrots, and you've covered the basics of 1-2-3 Eat!
Plus, if you're like me, you are old school and boil eggs for your kids to color before easter, and to make sure they are aptly entertained, you make a LOT of boiled eggs. And, since you're like me, you don't like them to go to waste, so you serve the obvious—deviled eggs— for your easter dinner. See? We're totally samers. And since we're samers, you and I both want deviled eggs but we also want to save all our yellow tier allotment for wine, and not for mayonnaise. So we use a green tier mayonnaise to make our deviled eggs.
Sides: Smashed Purple Potatoes, Honey Garlic Carrots, Deviled Eggs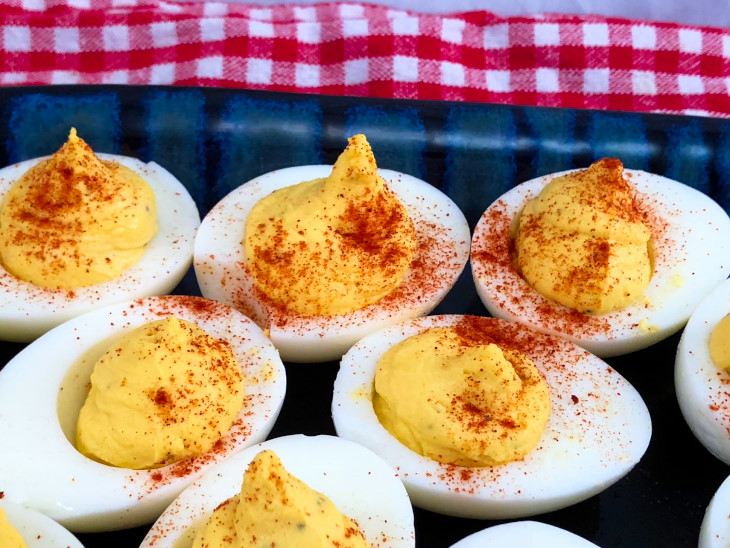 But wait.  There's more.
Take some whole-grain-but-still-soft bread dough and braid it.  Bake it to a golden-brown and your guests will think they've died and gone to heaven. (There's no need, at this point, to tell them it's healthy bread.  Just let them indulge themselves blindly and I give you permission to take the secret to your grave.)
Bread: Whole Grain Braided Egg Bread
Finally, to round out the meal (I promised you dessert!) we have an Easter-Egg-Shaped healthy fruit pizza.  Gluten free and without refined sugars, this fruit pizza is as amazing to the tastebuds as it is to the eyes.  (And I'll do you one more: when it's not Easter, feel free to shape this in a traditional round shape like a normal pizza.  Year round healthy dessert.  You're welcome.)
Dessert: Egg-shaped Fruit Pizza
Serve your guests this well-rounded, healthy Easter dinner and I promise they will be impressed.  They might even demand you cook Easter dinner every year from now on.  (But, please, don't hold that against me!)
PIN ME!!!!!