I have been fortunate enough in my life to spend some real quality time in Canada. Fishing, blueberry picking, hiking, swimming in ice cold lakes… Paradise.
One of the best things I've ever experienced is The Shore Lunch. Go fishing early morning, catch a few nice walleyes, find a nice sandy shoreline, build a fire, filet the fish, bread them, and cook them al fresco right there on the beach. Feast like a king, then head back out to catch some more.
The trouble is, the pre-packaged "Shore Lunch®" Brand doesn't quite comply with our views of healthy fish dinners here at 90/10 Nutrition. So we've created our version of a healthy Shore Lunch. Perfectly seasoned and breaded fish (wish they could be fresh-caught Walleyes for everyone, but any white fish will work.)
We love to pair this with asparagus and watermelon. (A summer reward for the hard work of summer fishing!) You could also make a fish sandwich out of it.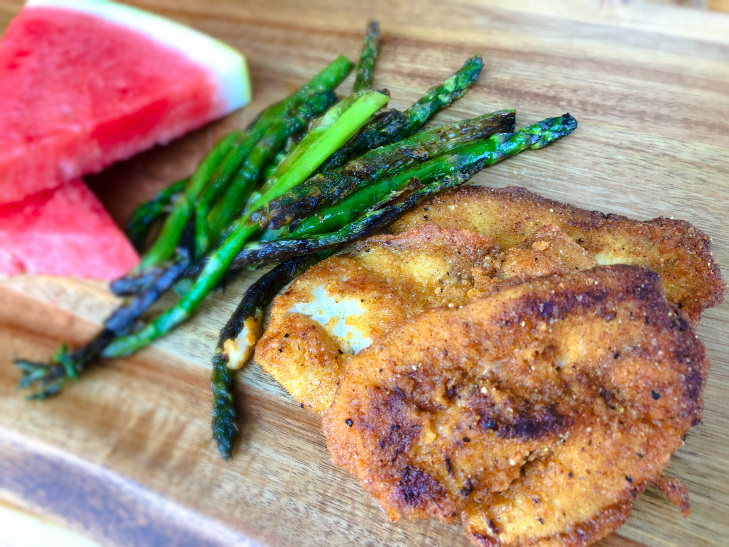 Ingredients
1/2

cup

avocado oil

divided

1 1/4

cups

100% whole wheat flour

1/2

Tbsp

baking powder

1

tsp

salt

1/8

cup

buttermilk powder

3/4

tsp

pepper

3/4

tsp

cayenne pepper

3/4

Tbsp

onion powder

1/2

tsp

Italian seasoning

1/2

Tbsp

garlic powder

1/2

Tbsp

paprika

8

each

fish filet

6-8 oz each
Instructions
Preheat oven to 200.

Mix flour, baking powder, salt, buttermilk powder, 2 Tablespoons avocado oil, pepper, cayenne, onion powder, italian seasoning, garlic powder, and paprika in a gallon sized zip top plastic bag. Mix well. Add filets. Shake to coat.

Heat remaining oil in a large skillet. Add coated filets. Cook 4 minutes per side or until golden. Remove to a parchment-lined baking sheet. Keep warm in preheated oven while cooking the remaining filets.
Notes
To make just the breading, in case you want to have some on hand the next time a fresh catch lands on your doorstep, combine flour and next 9 ingredients.  Store tightly covered in the pantry or the freezer.  (I prefer the freezer.)  Making the breading in advance is sort of like buying a box of Shore Lunch®... only better.
Pin this healthy shore lunch recipe to your favorite boards. Use the pin button on the image below (hover to see it on desktop). This would go great on clean eating boards, seafood boards, lunch boards, fish boards, and more.